The AT-400 ALD system is the first product of this design philosophy. The scientists at Anric Technologies also provide market analysis, process development support, failure analysis, and a host of other scientific consulting issues through the technical consulting arm of the company. The consulting practice has yielded high value results for several technology companies including KLA-Tencor and Veeco. Visit the advanced films and applications pages to learn more about Anric Technologies' other projects.

THE TOOL CAN DEPOSIT A WIDE BREADTH OF MATERIALS

System ships with several of the standard recipes pre-loaded in the controller
Exact mix of recipes TBD during purchase discussion
Process development support available for all system capable materials and user defined device requirements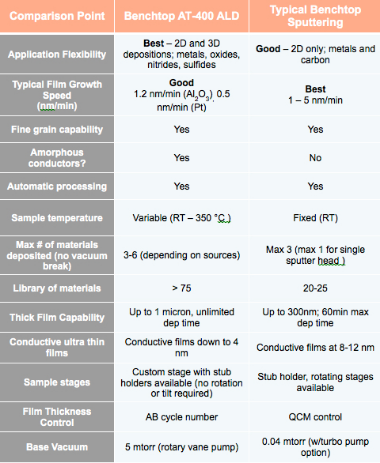 ALTERNATIVE TO SPUTTERING FOR TEM AND SEM SAMPLE PREPARATION AVAILABLE WITH AT-400 ALD SYSTEM

Samples for electron microscopy often benefit from the addition of a thin film. It is typically a conductive material such as Pt, Pd, or Au. These conductive layers can help to inhibit charging, reduce thermal damage caused by localized beam heating, and improve the secondary electron signal.

Traditionally these films have been grown using PVD techniques. As technology advances, some types of samples are not served by PVD because the features that need to be coated are not accessible to line-of-site growth.

Researchers will benefit from having access to conductive thin films grown by ALD now that a system optimized for small sample conductive metal growth (with a price point in the same market as benchtop sputtering) has been developed - the AT-400

The AT-400 ALD system provides a solution to conformal, conductive thin films for 3D sample prep while also providing traditional 2D coatings that are currently grown using sputtering/evaporation. The AT-400 not only pushes the boundaries, but is also an effective replacement for current sample preparation processes all within a benchtop configuration at a comparable price point.