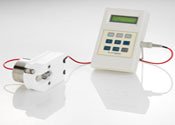 The portable probing system combines the Hand Applied Probe with the HM21 Test Unit. The Hand Applied Probe has an insulating PTFE body which can be placed directly onto the sample to be measured.
The cylindrical probe head is easily changed.
The Hand Applied Probe incorporates a shorting switch to prevent sparking.
It is possible to measure large flt samples unable to fit on standard test equipment.
The integrated bright nickel plated brass probe holder has sufficient downward force to ensure optimum probe loading on the sample