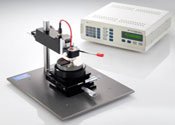 The Multiheight Probe in combination with our RM3000 Test Unit is by far our most popular set of equipment.
This combination allows a wide variety of samples to be measured from glass slides with TCOs or metal layers, to wafers and even ingots up to 250mm deep.
An optional longer post is available if taller samples are to be measured, and the base is available for measurement of samples up to 250mm diameter or as an option up to 300mm diameter.
It is possible to mount either the Micropositioning Table or the Multipositioning Table onto the base to enable measurement of small samples or wafers.
The 300mm version is available with an automated Z axis controlled by the RM3000 Test Unit.